Greeting friends without hugging, waiting for relatives to emerge from quarantine, calling an ambulance that doesn't arrive—this is what daily life in Sierra Leone looks like as Ebola ravages the West African country. Scroll down to see a gallery of scenes from the Ebola zone (Photo credits: Burial photo by Michael Stulman/CRS. All other photos by Tommy Trenchard for Caritas).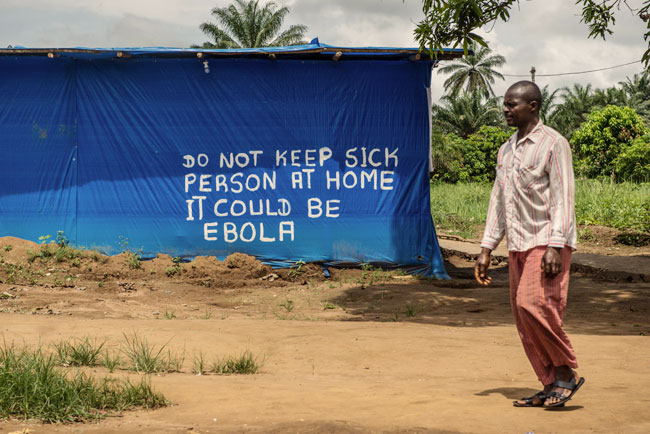 When the disease first emerged, families were fearful of sending their loved ones to the hospital. Local governments are working to change perceptions. Because religious leaders are trusted members of the community, Caritas is working with priests, imams and traditional healers to make sure they know how the virus is transmitted and which behaviors can stop it.
Handwashing is the first line of defense. Even small amounts of bleach in water (0.05%) are very effective against the virus, according to Caritas volunteer Dr. Timothy Flanigan.
For months, people doubted the existence of the Ebola virus, attributing symptoms to things such as witchcraft or even government plots. Caritas reaches out to community leaders, parish volunteers, schoolteachers and more, teaching them how the virus is actually spread so they can teach others. Here, Idriss Gibson Mansaray trains Caritas community health volunteers..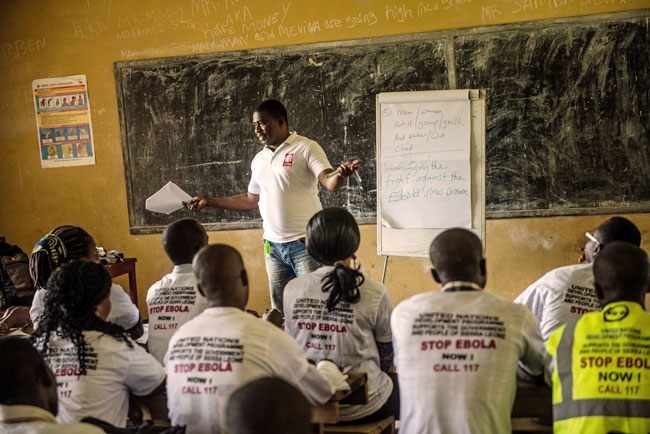 In Sierra Leone, people pay for rides on motorcycles to get from place to place. Because travelers may unknowingly spread the virus across distances, Caritas trained motorcycle taxi drivers to know the signs of Ebola, and gave them leaflets to pass out.
Fever is a key symptom of Ebola and no-touch, gun-like thermometers can read people's temperatures safely. Here, health staff take temperatures at a checkpoint in the village of Newton.
However, common diseases like malaria and typhoid may have similar symptoms. The countries hit hardest by Ebola lack strong health care systems and sending away blood samples for testing can take days.
Dead bodies shed huge amounts of the Ebola virus and touching corpses is extremely dangerous. In Sierra Leone, government burial teams are overwhelmed and cannot always respond quickly when people call for ambulances.
Catholic Relief Services, a Caritas member from the USA, provided funding to rehabilitate this cemetery so that burials can be safer. Caritas Freetown is also working with religious leaders to find no-touch ways to honor the dead and provide closure to families.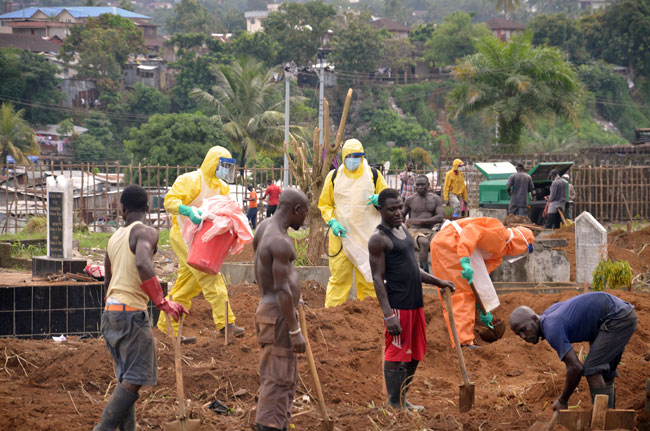 The Ebola crisis has been a blow to Sierra Leone's economy, with quarantines and roadblocks cutting off buyers from sellers. Saudatu Kamara, who sells fruit, says people are too afraid to visit the market in her Ebola-hit town of Waterloo.
Caritas' regular programmes in Sierra Leone, such as a free meal program for children, are even more needed now that the country is reeling from health and economic crises. This healthy girl received food and more during a weekly Caritas event. Meanwhile, Caritas staff are looking for long-term placements for children whose parents have died of Ebola.
Learn more about Caritas' work on Ebola and please support our work. Photo credits: Burial photo by Michael Stulman/CRS. All other photos by Tommy Trenchard for Caritas.