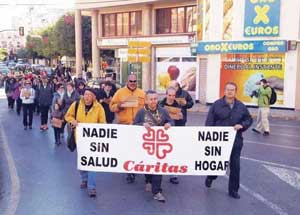 Caritas says the crisis in Spain has impacted on the human rights of the most vulnerable people.
Caritas Spain's Sonia Olea Ferreras told the UN Human Rights Council in Geneva on 25 June that housing, migration, protection of public security and international cooperation.
She said that there is a need in Spain to implement the 2nd Human Rights Plan, as well as signing the International Convention on Protection of the Rights of All Migrant Workers and Members of their Families.
Ceuta and Melilla are Spanish exclaves located on the north coast of Africa. They have witnessed significant human rights abuses with migrants trying to enter them to reach Spanish territory. Migrants can face summary expulsions under Spanish law.
Sonia Olea Ferreras says these laws must be repealed, and that every person must have access to justice.
Caritas highlighted the need to continue stepping up the creation of intervention, monitoring and data systematisation tools.  Government officials must be trained as a way to combat racial and ethnic discrimination.
Regarding the current Public Safety Law, the creation of monitoring and observatory systems was emphasised, especially relating to legally indeterminate assumptions that may lead to highly damaged people being in a situation of social exclusion and serious vulnerability, which would involve criminalisation of poverty.
Caritas especially appreciated the efforts the government has made via various means to help mortgagers. Having said this, it is vital to start setting up a structural framework for the housing crisis that hundreds of Spanish families are experiencing. With a view to guaranteeing the human right to decent and adequate housing, Caritas believes this would require radical reform of the Code of Civil Procedure and the Mortgages Act, as well as organisation of government measures such as a housing agreement.
On human trafficking, in recent years public policies have been put forward in Spain to combat trafficking exclusively for the purposes of sexual exploitation. A law is still needed against all forms of human trafficking with a view to guaranteeing protection and assistance for victims.
International cooperation policy needs to be properly budgeted and supported. Spain is responsible for fulfilling the commitments set out in the State Agreement of 2007 regarding this matter, as well as the legally binding obligations deriving from human rights instruments signed by Spain, and those arising from the Lisbon Treaty.
For Caritas, it is vital to move forward on the aspects presented before the Council in order to continue working towards the great goal that Spanish society has aimed for in recent decades: access to human rights for everyone.
The economic crisis cannot and should not be an excuse for this not to be the case, because a society will always be measured and assessed in terms of how it treats the most vulnerable – or those who suffer most – at times of great difficulty.
For more information, please contact Angel Arriví  (91.444.10.16 – 619.04.53.81) – Ana Abril (91.444.10.15 – 661.20.79.41)