Better known as the Bureau d' Actions Socio-Caritatives (BASC), Caritas Cameroon was founded in 1971. A relief and development of the Catholic Church in Cameroon, it supports the social and charitable action network of the diocesan committees (CODASC).
Cameroon's economy is mainly agriculture-driven. However, a drop in world market prices over the past two decades has hit foreign exports and people's livelihoods – the United Nations estimates that 40 percent of the population lives below the national poverty line.
Due to its location in the Sudano-Sahelian region, Cameroon suffers from chronic food crises. After three decades of crises connected with climate impacts and natural disasters, the rural population is increasingly experiencing impoverishment. The region in the far north is particularly exposed to these climate variations, such as the recent floods in 2010 and the droughts in 2009 and 2011.
Conflicts affecting neighbouring countries have resulted in the arrival of 100,000 refugees and asylum seekers, primarily from the Central African Republic and Chad.
Since 2012, people in the north east of Nigeria, having fled Islamist extremist fighters Boko Haram, have sought refuge in the far north of Cameroon. This new influx of refugees is estimated to be 40,000 families. Since 10 June 2013, the situation has substantially deteriorated with an increase in violence against the Christian population in Nigeria, leading to a worsening of the situation in Cameroon and additional pressures being placed on an already weakened host population. These people are severely lacking in the wherewithal to survive (food, clothing, healthcare, etc.)
Caritas Cameroon has created an operational unit to support the local Church in responding to the refugees' needs. An appeal for funds was launched to meet the refugees' immediate needs, and food and non-food items were distributed. Medical supplies were also made available.
Plans were also made to improve buildings and temporary structures, while water is still a priority for everyone. Caritas Cameroon is working on improving the water supply by building additional distribution points, and organising environmental awareness-raising campaigns in order to protect water points, forests and land.
Caritas Cameroon organises community training courses on livestock farming and agriculture. It keeps an eye on the well-being of populations and the protection of people and goods. Partners: Misereor, Secours Catholique (Caritas France) and other organisations with whom we are having talks
Updates from Cameroon
cameroon
More than 25,000 refugees have travelled across the border from Cameroon to Nigeria and dozens continue to arrive every week.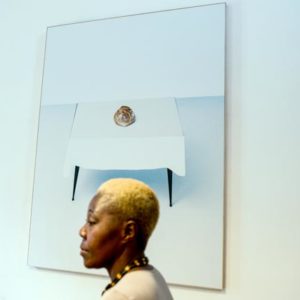 Elvine, 37, paid 6,000 Euro to people smugglers to make the tough journey through the desert from Cameroon to Libya, passing through Chad, Niger, Mali and Libya. She was heading for Tripoli where a family friend had offered to give her refuge.