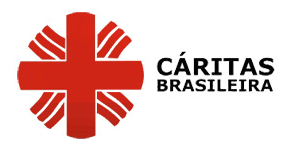 Caritas Brazil is an entity of the Brazilian Conference of Bishops (CNBB). It was founded in 1956, and is recognised as a federal non-profit organisation. Caritas Brazil currently has more than 15,000 workers – most of them volunteers – operating via 182 member organisations (diocesan Caritas and similar bodies) throughout the country.
The main programmes are concentrated in the following areas:
Climate change, risk management and emergencies: Caritas works on issues relating to disaster prevention, emergency relief and saving lives, and also promotes the protection of rights, as well as monitoring and advocacy regarding public protection and civil defence policies.
Migration and asylum: Caritas has been working with refugees and migrants for more than 40 years. These people, with their citizenship and political ties, need to leave their countries of origin to seek welcome elsewhere. This dynamic needs to be understood within a legal perspective.
Solidarity-based popular economy: This is an important Caritas Brazil initiative aimed at building a Society of Well-Being. Based on the collective organisation of workers, these practices are another form of producing, consuming and thinking in terms of personal relations, thus contributing to overcoming inequalities within the country.
Childhood, adolescence and youth: This initiative has been developed in various parts of the country with a view to protecting the human rights of children, adolescents and young people.
Coexistence with biomes: Since its first conference, Caritas Brazil has promoted technical capacity building regarding sustainable local development. It carries out water works (reservoirs, small dams, drilling) and production projects (creation of small livestock enterprises, collective farming and medicinal herb gardens, among others).
Indigenous peoples and traditional communities: Public policies aimed at indigenous peoples and traditional communities in Brazil are recent and come within the scope of International Labour Organization (ILO) Convention 169, ratified in 1989, which deals with the rights of indigenous and tribal peoples around the world. Caritas Brazil, together with other social and socio-pastoral movements, understands that these communties' lands are necessary spaces for the country's cultural, social and economic reproduction.
Women and gender equality: Several years ago, Caritas started a reflection process on the theme of women and gender equality, with the aim of raising awareness regarding the situation of exclusion and inequality that many women are subjected to, thereby promoting the establishment of fair social relations between men and women.
Food and nutritional security: Brazil has 3.4 million citizens in a situation of food insecurity, equivalent to 1.7% of its population. Against this backdrop, Caritas Brazil carries out actions with groups and poor communities, working on strengthening and guaranteeing public food and nutritional security policies.
Urban context: Brasil experienced an accelerated and disorganised process of urban land use from the 1930s to the 1970s. This situation generated serious problems due to displacement from the countryside and overcrowding in cities. Caritas has always been present in this setting and, since 2011, has been promoting an understanding and a methodology aimed at advising on and contributing towards work with communities and families who suffer from problems relating to the urban context.
Solid waste management, with an emphasis on waste pickers: Since the enactment of the law that establishes the National Solid Waste Policy (PNRS), Caritas Brazil has been working with recyclable waste pickers, helping them to participate in the preparation of municipal and national solid waste plans.
Volunteering: The volunteers are educators who share the Caritas mission, by supporting and promoting initiatives to transform people's life situations. They also carry out tasks relating to the organisation and mobilisation of grassroots groups, participating in Caritas management, decision making and planning.
Training: Training has traditionally been very important in the Caritas Brazil community, and has become a vital tool in its organisation and management process. Along the way, methodologies and experiences, and the perspective of integral human dimension participatory processes, are perceived as structural elements of the organisation's training process.
Updates from Brazil
brazil