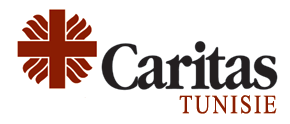 Caritas service in Tunisia goes back to the 1940s. At that time, it was a branch of Secours Catholique (Caritas France) present in almost all parishes, about 100 nationwide.
After independence and in order to be able to continue its activities, Caritas became the "Social Service of the Prelacy", protected by the "Modus Vivendi" of 1964. From then onwards, Caritas collaborated with Tunisian organisations and gradually set about helping the most disadvantaged sectors of the population.
Caritas Tunisia, with its fifteen co-operators is probably one of the smallest Caritas of the MONA region.  Despite the paucity of both human and financial resources, Caritas strives to meet the needs of a wide range of marginalized people. Caritas Tunisia is especially engaged in: creating micro projects, tutoring schoolchildren, providing recreational activities to potentially drop-outs, facilitating access to health care to local and foreign population.
Caritas also runs a foyer for migrants awaiting their repatriation, as well as a centre of women formation. Finally, it is worth mentioning that Caritas is the only association authorized to visit Christian convicts in Tunisian prisons.
Updates from Tunisia
tunisia