By Valerie Kaye in Bossangoa
"We're hostages," said Christophe. "If we leave the Catholic mission, we will be shot like rabbits."
Over 41,000 people are crammed into the Catholic mission compound in Bossangoa, a town in the north of the Central African Republic. They're sleeping on floors, in corridors, the school, the basket ball court, between cars and in the grounds.
"The only place that is empty is the cemetery, and people will not sleep there," said the local bishop, Msgr. Nestor-Désiré Nongo-Aziagbia. "They cannot stay beyond the compound where Seleka patrols."
A coalition of local and foreign fighters called Seleka seized power in March, plunging the Central African Republic into lawlessness. Since then, Seleka forces have swelled from 3,000 to 22,000 men. They've brought with them an epidemic of pillaging and murder.
"Systematic looting, killing and burning has affected the entire country," said Archbishop Dieudonné Nzapalainga of Bangui. "There has been an organised targeting of institutions, schools, mines and archives in a deliberate attempt to destroy our social fabric and collective memory."
Over a million people are in need of food aid and three-quarters of the 4.6 million population don't have access to adequate healthcare. The UN says 300,000 people have fled violence in places like Bouar , Bouca and Bossangoa.
"Twenty Seleka men arrived on motorcycles," said Cyriac, a farmer in Bossangoa. "They slit the throat of a 10 year old boy called Warasé. We ran for our lives. I have no idea where my mother, my wife and child are now."
Over 2200 homes have been torched in Bossangoa since September, as Seleka fighters go from village to village in a bid to root out opposition.
"Seleka came in the night. They attacked the mines and the houses," said Innocent, a local gold miner, who managed to escape. "When I returned, everything had been stolen or torched. I counted 17 dead, including two infant babies and a toddler."
The people see the Catholic mission in Bossangoa as a safe haven from the killing. "People started pouring in by the thousands," said the Caritas Bossangoa director, Fr. Michel. "We were taken by surprise."
They sleep where they can, jammed together in every conceivable space. The tide of humanity washes right up to the door to Bishop Nestor-Désiré Nongo-Aziagbia room. "You have to be careful not to step on anyone coming in," he said.
Everyone has their own story of trauma. Thirteen year old Chaucela lost both her parents, killed in a Seleka attack, while the family where visiting relatives in Bossangoa. "I just want to go home," she said. "But instead, I'm here and my parents are never coming back for me."
Health and sanitation conditions are critical. Coughing is heard all day and night. There are no mosquito nets. Malaria is widespread. Malnutrition affects 40 percent of the children. The latrines cannot cope with the numbers. When the rains come, torrents of red mud flood the compound.
"At first we had no way in our small clinic to cope with this demand," said a Caritas health worker. "But we're now getting some help and we have managed to get the death toll down from five people a day three weeks ago to one death a day now."
Caritas has been able to provide some help in the form of blankets, mats and tools and distribute UN food aid. But the insecurity means it's difficult to get aid through.
"I received one bag of rice and some oil three weeks ago," said Edith. "We have nothing left. There are 13 of us in a tent. What hurts me most is when I see my children cry, I feel this pain inside of me."
However Edith says she is better off than many: "Thankfully I have a sewing machine and can earn enough to buy food. It means I don't have to go to the fields."
Most women have no alternative than to venture out. They leave in groups of 10 at 7am for the fields and return by 3pm. "My head aches, I'm so afraid to die," said Clémence, one of the women.
It's too dangerous for the men to go. One woman keeps watch for Seleka fighters, while the rest gather what the can.
"My small daughter Fara isn't eating," said a mother. "I'm afraid to die but I have to find food for her and my family. Fara must come with me to breastfeed or she will get even weaker and die."
Fara is one child among the 14,600 children in the mission. She looks tiny for her 10 months. Her crying is painful to hear.
"It hurts to see such misery and not be able to give more assistance," said Gervais, a Caritas volunteer. "The few things we had were distributed among the most vulnerable. All we can do now is listen to their suffering."
The UN has tried to relocate the camp, but the people refused to go. "The cathedral is a place where people get their strength and hope. Every morning and night they're praying for peace," said Gervais.
Msgr. Nestor-Désiré Nongo-Aziagbia, who lives in the compound, has been working tirelessly to protect the people there.
"We need to give back to the people what they have lost. Their goods, their dignity, and allow them to be free from fear," he said. "We give faith and hope but in the case of Bossangoa, charity has to be shown and fast."
He has been supported by Archbishop Dieudonné Nzapalainga, who often takes the wheel of the car himself, leading aid convoys from Bangui to Bossangoa, in the hope that his presence will mean they get through.
"In our misery we have been given two people, the archbishop and our bishop," said Sr. Claire Yalingao, who runs the guesthouse in the compound. "They give us strength to stand up against the violence."
As bad as the current situation remains, the fear is that it will get worse. The UN has described the Central African Republic as a "tinderbox", while France has warned that the country is on "the verge of genocide".
Seleka, identifying themselves with Islam, have been promoting divisions between the Christian majority and Muslim minority. Churches have been desecrated, seminaries and convents attacked, priests threatened and beaten and over 150 Church cars stolen.
"The Christian community felt that this violence was directed at them," said Archbishop Dieudonné.
Militias, called Anti-Balaka (Balaka means machete in Sango) have sprung up. Armed with bows and arrows or basic guns, they tried to defend the people.
Seleka responded with reprisal attacks against Christian villages, such as the ones in the Bossangoa area. And so the cycle of violence spirals, with Anti-Balaka retaliating against Muslims.
"Seleka has torn our social fabric with their actions. Their behaviour is forbidden in our religions –both the Bible and the Koran say that Christians and Muslims should live together in peace," said national Muslim leader Imam Oumar Kobine Layama.
Archbishop Dieudonné, Imam Oumar Kobine Layama and national Evangelical leader Pastor Nicolas Guerékoyame Gbangou have started an interreligious peace initiative supported by Caritas. They tour the country, visiting areas at risk, to negotiate with the communities.
"Our platform is to educate and facilitate reconciliation in communities," said the imam. "When we preach this message it's accepted. We're seeing that in some villages our religious platform is being replicated – we want to have that everywhere."
Archbishop Dieudonné doesn't see it as a interreligious conflict. "It's a foreign invasion," he said, pointing out Seleka are dominated by Sudanese and Chadian fighters. "Both Muslims and Christians are suffering. Here, warlords reign."
The archbishop has been visiting the world's capitals and the United Nations, urging for the deployment of a UN peacekeeping force under a Chapter VII powers to maintain peace and for the international community to support transitional elections.
With humanitarian appeals going unfunded, the archbishop also said aid is desperately needed. "We need the funds and support to enable the aid agencies to care for people and begin real development," he said.
For the people in the Catholic mission in Bossangoa clinging on to the hope of outside help, there is no 'plan b'. "We're watching people die before our eyes like animals," said the archbishop. "It's time to act. Don't abandon us."
Get involved
Donate
Volunteer
Pray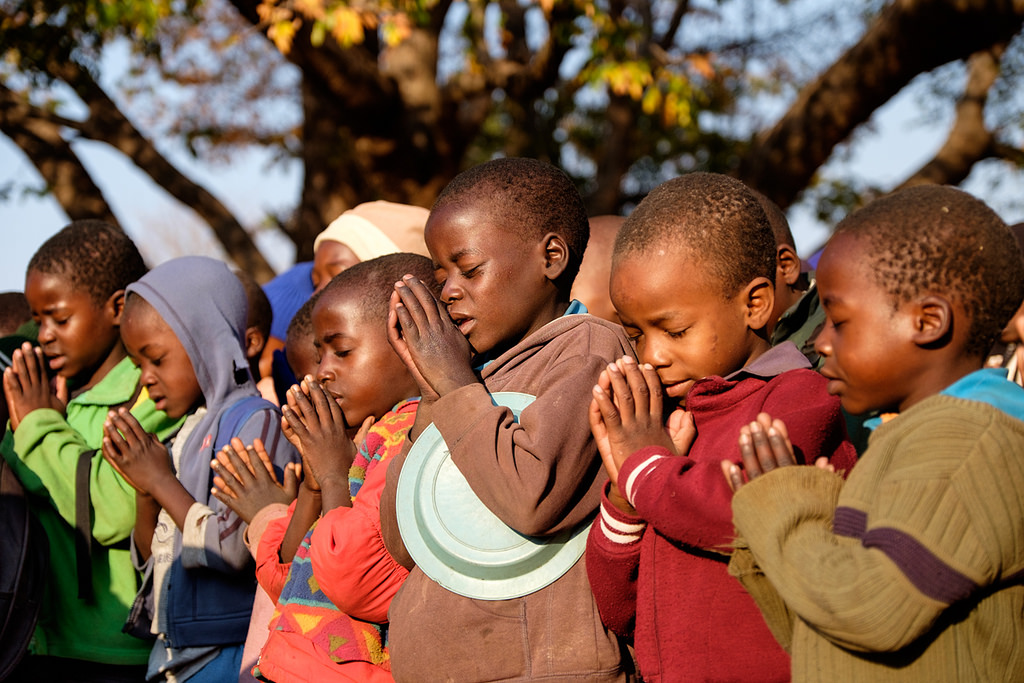 Latest Tweets