Ten years since the conflict began in Darfur 1.4 million people are still living in camps. Caritas partner, Norwegian Church Aid is one of the few agencies still delivering humanitarian aid and life-saving services to people living in camps. Caritas England and Wales-CAFOD's Nana Anto-Awuakye has recently returned from Darfur and shares her reflections on what life is like for Darfur's camp communities. All photos are by Annie Bungeroth/ACT-Caritas

Arriving in Sudan
Khartoum, Sudan's commercial capital is like any other global city; its rush hour starts early and doesn't seem to end. Vehicles lurch a few inches forward in the traffic but no one is going anywhere fast.
As the traffic bumps along, a donkey and cart trots out of nowhere and weaves its way in and out of the traffic, a reminder that despite the evolution of the motor car – sometimes the simplest way to get about is the oldest form of transport.
I am waiting in Khartoum with Caritas's partner Norwegian Church Aid (NCA) preparing to leave for Central Darfur. It is only a short walk to the NCA offices, but every step felt like I was walking inside a baker's oven.
If you need to cool down from Khartoum's blistering 43 degree heat, then you head for the Nile, there's a spot where the Blue and White Nile conflate, and here you'll find all sorts of people seeking relief from its cooling waters.
A group of women slip off their sandals and delicately dip their intricately decorated henna feet into the Nile waters; a group of primary school aged boys had created swimming floats by tying together empty plastic bottles, the strong swimmers splashed and roared with laughter, seemingly unafraid of the sometimes swirling Nile currents, while the not so confident swimmers stayed closer to the river bank buoyant their makeshift 'bottle floats'.
Taking off from Khartoum to Zalingei in Darfur's Central Region, buildings quickly disappear as we fly over vast expanse of arid and barren landscapes.
What green vegetation could be seen was sparse – from the air the trees looked like scattered sprigs of broccoli and snaking in between them, dried up sandy river beds.
Every so often the landscape would burst into greenery – a patch work quilt of neatly divided up square pieces of land with crops growing on them.
Once we land in Zalingei it is a short bumpy ride to the offices of Caritas's partner – Norwegian Church Aid (NCA), who are on the frontline running life-saving programmes – food, clean water and sanitation, health and nutrition clinics for the last 10 years, to people who have been affected by the ongoing conflict in the region.
There are no tarmac roads, just dirt tracks, here donkeys rule the road they are better able to navigate the pot-holes and the undulating crevasses of the dirt tracks.
The town is large and bustling, a wide dusty street housed on both sides of the road tin and wooden shacks selling basic supplies. The only solid buildings brightly painted in blue and white are the police station, government and UN buildings.
As we arrive in the scorching heat of the afternoon sun the mosque Muadhan chants the adhan – the call to prayer.

Ten years of mud brick
I wasn't sure what to expect when I arrived at Khamsa Dagaig camp – I had a TV image of UN tents that had seen better days, but here at Khamsa Dagaig the tarpaulin is now buried under ten years of mud brick and homes have morphed into permanent settlements for people who have fled their villages because of fighting.
On this vast sandy settlement it's hard to know where the camp starts and ends, in fact its expansion over the last ten years has meant that it has pretty much merged with the nearby host community.
It takes a short climb to the top of a small hill to survey the sweeping sandy landscape to get a better impression – the NCA aid worker I'm with averages the size of the camp to fifty European sized football pitches put together, but even that seems an under-estimation, as I spot makeshift houses sprawling up a hill on the opposite side.
Signs of permanency are everywhere; there's a market in the centre of the camp, there are piles of roughly made red bricks waiting to be used to build more sturdy structures, and families have acquired livestock – chickens and goats roam about scavenging for whatever food they can find.
Seven years ago, the camp water committees with support from Caritas partner Norwegian Church Aid started work on providing a more efficient way to get water to the 20,000 camp residents.  They dug the foundations for a well, which today is powered by solar panels pumping water to fifteen standpipes across the camp.
Amina remembers staring down the gaping hole of the newly dug well, she along with other women in the camp provided food and water for the men digging the foundations, and she was one of many people photographed staring down into the well .
"When we arrived at this camp water was a big problem, we had to walk to the valley to collect water, and this was dangerous, because sometimes women and girls were attacked.
"We still face many challenges after ten years of living in this camp, but at least we don't need to worry about fetching water.
"I can keep myself and my two young boys healthy because I have clean water every day. "

Water cooler conversation
Women in the camps are up early, to place their jerry cans in the water standpipe queue, while they wait for the water to be pumped through – they go about their daily chores, to return later to fill them up.
None of the jerry cans had distinguishing marks, in they basically all looked the same – white or yellow.
I was puzzled as to how the women gathered around the water standpipe knew which jerry can belonged to whom?
Yet somehow as the women meet back at the standpipe they all seem to know exactly where they had placed their jerry cans in the snaking queue.
I try and ask the women at the water standpipe in Khamsa Dagaig camp, but they look at me strangely and laugh. Yes, in their eyes I've asked the most ridiculous question.
It's difficult to comprehend how the women have been able to survive, forced from their homes and all that is familiar to them, to start again with nothing in an inhospitable environment.
"When I first came to the camp with my family, it was very difficult – we slept on the ground; we all stayed together, we were afraid, afraid of more shootings, says Haja, who has lived in the camp for the last nine years.
When you ask camp residents who is supporting then – its Caritas's partner Norwegian Church Aid (NCA) that gets mentioned every time.
NCA is one of the only agencies getting humanitarian aid to where it's needed in the camps. It has been running its life-saving programmes for the last ten years.
Haja's jerry can is full as she prepares to leave her bright blue toub – traditional dress – catches a rare breeze and it floats about her.
"NCA were the ones who brought us water and good health for our children, they walk with us every day. They do not forget us."

Wedding party
On a bad day it's easy to say that the situation in Darfur is complicated and overwhelming.
But then you pause for a moment and look a little closer, and listen a little harder, and everywhere there are small signs of hope.
It's the sun shining down on the solar panels pumping clean water to camp residents; it's the farmer's crops swaying in the breeze; and the sound of children laughing.
People talk about the challenges they face, camp life is not easy, but they also always talk about wanting peace, wanting to return to their homes.
In Hassa Hissa camp on my last day, I meet a large group of women dressed in their best brightly coloured toubs carrying large silver pots on their heads.
They sang and danced their way to their destination, the home of a bride.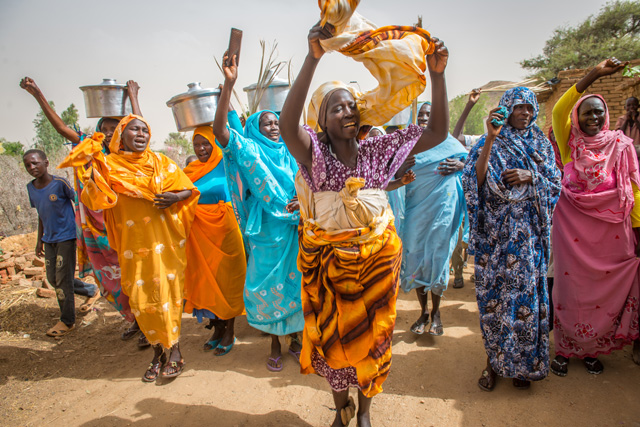 The wedding party entered a small compound where women were cooking the wedding feast. Large pots bubbled away on open fires.
Just when I thought people here had nothing left to give, they proved me wrong.
The solidarity of the womenfolk was overwhelming. I was asked to help stir one of the large pots, it looks easy, but my wrist action barely got a swirl going. The women laughed at my feeble efforts.
I was struck by the inventiveness a small boy who had made a toy car out of a discarded plastic bottle, and had attached a small flower to his toy car for decoration. He held it in both hands, and grinned with such pride at his wonderful creation.
"It was difficult to make, it took me a long time. But, I love cars, I love my toy."
Here in Darfur people have not let camp life rob them of their hopes and dreams. Instead they have held on to them tightly with both hands.