By Fabrice Boule' and Harriet Paterson. Photos by Alexandra Way/Caritas Switzerland
Music drifts from the window of a crumbling building as night falls over the city of Homs. Nour Ghozam, aged 12, is singing as elder brother Rafi, 18, accompanies her on the piano. He is talented, he dreams of becoming a musician. She loves poetry.
Their father Houssam plays along on the oud, an oriental stringed instrument. The words of the song were written by Rita, their mother. In a fourth-floor room suspended over a ruined city, in the midst of the great tragedy that has overwhelmed Syria, this is a rare moment of beauty.
Homs was one of the first cities to fall in the Syrian war. Between 2012 and 2014, much of the city was destroyed during brutal conflict between rebels, Islamists and the Syrian army.
"We only just managed to get out," recalls Houssam, telling how the family narrowly escaped from Homs when the city exploded into war. Of 1.4 million former residents, half have been displaced or killed.
The family took refuge in a nearby town for four years while the fighting continued. Houssam is such a good chef that he managed to find restaurant work and pull through. The children went to school. When government forces retook Homs, the family came back. "Before the war, I worked in two restaurants," Houssam recalls. "We had a house, we lived well."
But they returned to find their home destroyed. Eventually they found a flat in a block that is slightly less damaged than the surrounding bombed-out ruins. There is even some proper furniture left in it. The owner gives them a good price, happy to have it safely occupied.
"I really miss my family."
Now the parents' hopes for the future are all centred in Nour and Rafi, their bright, artistic children. Rafi dreams of finding support to go and study music abroad. Nour writes poetry, sings, and is happy to have found some of her old friends who have also come back to Homs. Life, however, is far from the same.
"Before, my whole family lived in this neighbourhood," Nour remembers sadly. "I used to love going round to my cousins' house. Now they are scattered all over the country, or abroad. I really miss my family."
The family of Ali Al-Ahmad has been derailed by the death of their beloved eldest son, Mohamad, killed in the war aged 22. Their story stands for that of so many Syrians whose lives will never be the same again, even if peace were to come tomorrow.
In 2012, Ali and his wife Zahra [names changed] fled with their family from their farm outside Aleppo when Islamists aggressively tried to recruit Mohamad and his brother. "Can you believe they offered me money in exchange for my honour, in exchange for the life of my sons?" exclaims Ali in disgust. "There was no choice but to flee to Damascus." But his son was still not safe.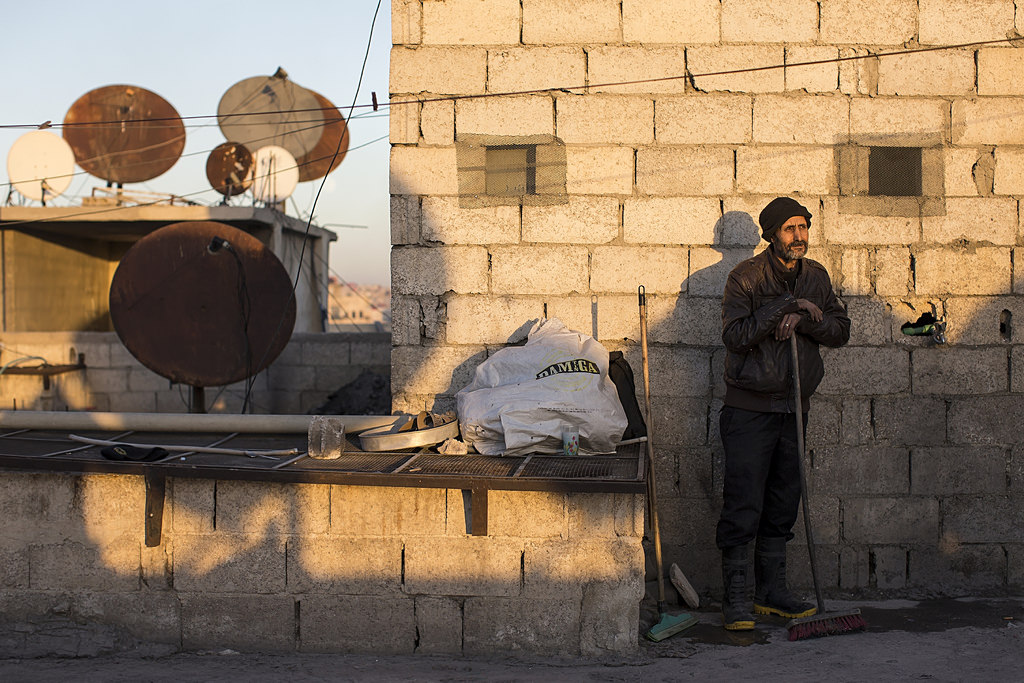 "Can you believe they offered me money in exchange for my honour, in exchange for the life of my sons?"
"I'd rather have no money, but have my parents be proud of me," Mohamad bravely told the IS recruiters. Instead he joined the Syrian army, and in August 2016 he died fighting at Deir ez-Zor.
His family has been adrift ever since. Mohamad's closest brother Hussein stays shut in his room, doing nothing. "He hasn't left the house since his brother died," worries his father Ali. "He is not well." Sometimes Hussein has violent outbursts of rage, destroying things in their tiny home.
Meanwhile their mother squats on the floor for hours at a time with her back against the wall, unable to work. "I just think about my son. That's all," she says flatly, her eyes empty. Her loss is irreplaceable.
Now living in Jaramana, a suburb of Damascus overflowing with people displaced by war, the whole family goes every Friday to visit Mohamad's grave in a village 15 miles away.
"We are alive. But that is all."
"Before the war, we lived simply, but we had what we needed," murmurs Ali, blinking away tears as he grasps a portrait of his lost son to his chest. "Olive trees, some farm animals, food to eat, the children in school." Now, although he works ceaselessly doing manual jobs around the neighbourhood, he makes only about half what will cover the family's basic needs.  "When I find work, we eat. When I don't… We are alive. But that is all."
Down a little side street a few blocks away, Caritas workers have registered more than 5,000 families including Ali's. Families receive vouchers to exchange for whatever goods they most needs, in shops which set fair prices. It must be difficult for a proud, hard-working father of a family to accept aid, but Ali admits that otherwise he could not manage.
He also gets help with the rent on three rooms on the rooftop of a half-finished building where the family lives, and Caritas also supports his youngest son Hassan, aged 12, to go to school. Hassan stays on after class for extra lessons to catch up with all the school he missed while living under the control of IS, who stopped children from attending.  With 1.75 million children currently not in school (UNOCHA), Syria today has a lost generation whose life chances are in ruins.
Helping people affected by the Syrian war is the largest Caritas relief operation in the world.
Caritas agencies reached over 280,000 people inside Syria in 2016, working out of six centres across the country: Homs, Damascus, Aleppo, the coastal area, Hassakeh and Horan. Here 1400 Caritas staff work closely with over 3000 volunteers, as well as many priests and religious.
The basic calculation they face is stark: the gap between people's needs and the resources they have is an abyss. Aid agencies, international organisations and local authorities are trying to fill it, attending to the most urgent basic needs:
FOOD AND WARMTH
Caritas distributes vouchers which allow families to decide what they most need, like food, clothes and detergent. Displaced people starting life from scratch are also given basics like stoves, mattresses and blankets.
A PLACE TO LIVE
In a country where half the population has been forced from home, finding somewhere to live is a huge problem. Rents in safer areas have soared due to high demand. Caritas helps people pay their rent and get fair prices.
GETTING TO SCHOOL
One in three children in Syria are not in school – that's about 1.75 million boys and girls. Caritas helps children get to class by providing uniform, books, bus fares and lunches.
A DOCTOR FOR BODY AND MIND
Healthcare in Syria has collapsed: 12.8 million people need medical assistance. Caritas distributes medicines and refers people to hospitals and clinics with fixed price agreements. Psychological support is particularly critical for this traumatised population, especially children.
"Yesterday, these people had a house, a family, a job. Today, they have nothing."
A woman arrives at the door of the Caritas centre in Jaramana. Zeinab Ibrahim [name changed] has fled with her two daughters from the region of Ain al-Fijah. Islamists have been in control since January, stopping the population from leaving. Zeinab and her girls escaped at night, risking their lives. It was not their first upheaval. In 2011 they had already been forced out of Babila by intense fighting. Now they have nothing but the clothes they are standing in.
Dr Louis Kawa, director of the centre, explains how people arrive by the score every day. Most, like Zeinab, have lost everything. "They have to ask us for aid just so they can eat," Dr Kawa sighs. Before the war, the building where Caritas operates was a medical centre run by Dr Kawa, who is an orthopedic surgeon. He took the decision to stay on, to help the desperate war-weary people who come knocking at the door.
The old and the young
In a damp, window-less apartment live Abduljahib Kutaib, his wife Salwa Mohamad Ali, and their four grandchildren, Yamen, Taim, Aya and Mohamed. Two children belong to their daughter, who was killed by a sniper's bullet. The remaining two belong to another daughter, busy caring for her husband who has cancer.

The grandparents were living in Deir ez-Zor but after their daughter's murder they realised they must leave at once. They came to Jaramana. Both of them are ill, and their grandchildren have respiratory problems owing to the cold, humid flat. The family only survives with the help of neighbours, Caritas, and other organisations.