At least 1,200,000 homes in Syria have been destroyed in half a decade of civil war, with over 10 million people forced from their homes and half the country's cities destroyed.
Nowhere is the level of destruction more evident than in the city of Homs. One of the first theatres of war between government and rebel forces, the sprawling, ancient metropolis has been turned into a post-apocalyptic landscape.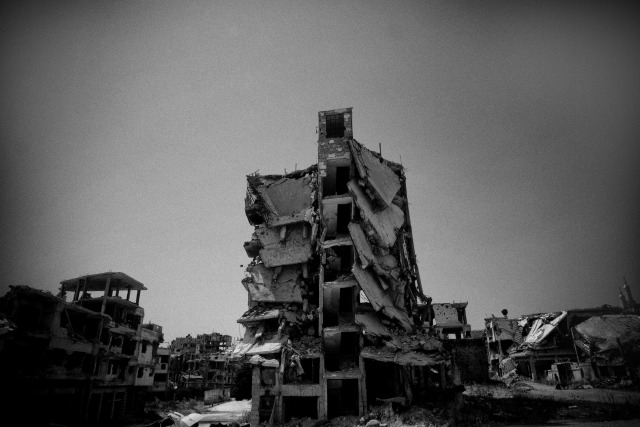 "Endless rows of inhabitable apartment blocks and not a living soul on the streets – that is what entire neighbourhoods in Homs look like," said a Caritas staff person from Dutch member Cordaid.
Although limited fighting and bombing continues in parts of the city, the main conflict took place from 2011 to 2014. By the time opposition forces withdrew, two-thirds of the rebel held parts of the city was destroyed. Out of 1.4 million residents in Homs – more than half have been killed or displaced.
"It's utterly unbelievable. Entire blocks of apartments have been bombed flat. You won't even find dogs or cats on the streets. It really is a desert of destruction," the Cordaid team said, after a trip there in August.
What remains in Homs is sheer poverty. Daily life continues amid the rubble. There are small shops and stalls selling goods. A trio of restaurants has opened in the old town centre. But the economic crisis is strangling any real return to normalcy.
Whereas Syrians used to make around 600 Euros a month on average, this same wage is now worth only 50 Euros because of the inflation. The costs of rent, food and fuel have risen enormously. Many people have also lost their job or income because of the war.
Dealing with the humanitarian consequences of the  war in Syria is the largest Caritas relief operation in the world. Caritas provides food, healthcare, basic needs, education, shelter, counselling, protection and livelihoods in Syria and to refugees in host countries.
Caritas works in Homs supporting people with rent assistance, food stamps, hygiene packages and help in getting medication. In the coming winter, Caritas plans to provide children with warm clothes in Homs and other cities. Caritas hopes to reach more than 2 000 children but still needs to raise 50,000 Euros.
Fatima, 38 years old, fled with her husband and seven children from Aleppo to Homs.
"In Aleppo, there was no water or electricity," she said. "We were stuck in-between the clashes, sometimes without food, locked in our house. One of my children, Omar, got hurt by a bomb. As soon as he was out of hospital, we left for Homs."
In Homs, the family survives by relying on aid. Six months ago, Fatima's husband returned to Aleppo to earn money.
"My husband used to keep a shop in electronics, but it was destroyed. Now, he makes sandwiches in restaurants. We used to be self-reliant and had a good life. It is so hard to accept that now, we are completely dependent on other people," she said.
Across Syria, 4000 schools have been destroyed or damaged. That's one in every four. More than 2 million children are out of school. A third of the hospitals have been destroyed and half the country's physicians have fled.
Suhil (pictured below) has to travel from Homs to Damascus for one week each month for his chemo therapy. He has leukaemia.
His father works for the municipal water company. He does not earn enough to be able to take care of Suhil and his two brothers. Suhil now wears a mouth mask because his parents do not want him to inhale any bacteria.
The devastation in Homs is mirrored across Syria. In the country's second biggest city of Aleppo,  residents and rescuers there described the bombardment in Septmeber as among the worst yet in the five-year war.
Caritas Internationalis renews its call for a negotiated peace to end the suffering of Syrian through its Peace is Possible campaign. Caritas is urging its supporters around the world to put pressure on their governments to:
Ensure all sides of the conflict come together to find a peaceful solution,
Support the millions of people affected by the war,
Give Syrians inside and outside the country dignity and hope
Joseph Stalin said, "A single death is a tragedy; a million deaths is a statistic." With the international community unable to find a solution to end the war, Syria risks living up to his maxim.
All photos copyright:  Eddy van Wessel/Cordaid