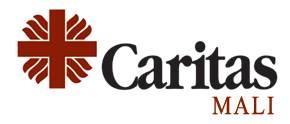 Caritas Mali was recognised by the government of the Republic of Mali on 11 January 1986. When it was established, Caritas Mali was called Secours Catholique Malien (SECAMA) or the National Social Pastoral Commission (CNPS). The diocesan delegations were established between 1959 and 1964. In 1973, the government officially recognised the Association Secours Catholique Malien (SECAMA) following large-scale operations by the Church to assist people affected by drought.
Caritas Mali's areas of intervention include: charitable and emergency humanitarian assistance initiatives; food security via promotion of grain storage warehouses; environmental protection, accompaniment of farmers' organisations, rural extension, natural resource management; and awareness-raising and facilitation relating to health and sanitation.
Regarding local economic development, Caritas Mali provides credit unions and supports income-generating activities and local initiatives. On the healthcare front, Caritas supports community health services, strengthens infrastructure and combats HIV/AIDS.
Caritas Mali also works for the promotion of women by encouraging handicraft and vocational training courses, as well as projects that support women's groups. Child protection is important for Caritas Mali, and listening, training and support centres for children, as well as trade apprenticeship workshops, have been set up.
There are six diocesan coordinating organisations: Kayes, Bamako, Sikasso, Ségou, San and Mopti. Each coordinating organisation joins forces with the services of the 44 parishes, in order to effectively implement programmes on the ground.
In carrying out its mission, Caritas Mali has developed a dynamic partnership with several local operators: grassroots populations and organisations; economic interest groups; companies and associations; local authorities; government bodies (administration, technical departments); United Nations organisations (WFP, FAO, UNICEF, etc.); national and international NGOs; and specialised support services and consultants.